| | | |
| --- | --- | --- |
| Renamed Sandspit now under Schedule 4 protection | | |
Articles -
Economic benefits
Written by Abril Primeira
Thursday, 01 April 2010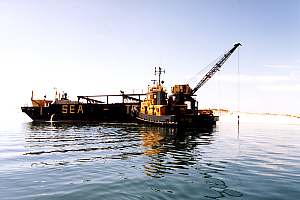 "Sea Tow" sand dredge and tug in position for the celebrations
The sandspit is now safely in government hands and has finally come under Schedule 4 protection.
Tim Groser (then Conservation minister, and now Trade minister) foreshadowed this development when he said,
"...if there is an economic benefit, then we should know about it, welcome it, and manage for it, because it strengthens the justification for public and private spending on conservation. It does so by shifting support for conservation from being a social cost to a social investment.
July 2009 address to the Conservation Estate Symposium
The Sandspit will be renamed "Sandmine" in a ceremony on the sand dredge "Sea Tow" in Ngunguru Bay at midday today to acknowledge the strength and lasting value of the new protections.
NSaPS has been assured by sand-mining experts that the sand will be "surgically removed".
Add as favourites (103) |
Quote this article on your site | Views: 1751



Only registered users can write comments.
Please login or register.

Powered by AkoComment Tweaked Special Edition v.1.4.6
AkoComment © Copyright 2004 by Arthur Konze - www.mamboportal.com
All right reserved
Last Updated ( Saturday, 03 April 2010 )