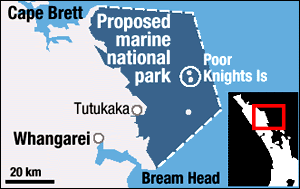 2005 map of a similar proposal
The Northland Chamber of Commerce wants to establish a marine park off Whangarei which could generate millions of dollars for the local economy.
The national park, stretching from Whangarei Heads to the Poor Knights to Cape Brett, is being promoted to Northland local authorities.
Chamber of Commerce chief executive Jeff Smith says it could have huge benefits for Northland.
"Aside from economic benefits we can see that a park like this would also provide ecological, social, cultural benefits," says Mr Smith.
Mr Smith says the Goat Island Marine Reserve near Auckland is an example of the benefits the proposed park could bring.
Annually Goat Island brings in $16 million of economic benefit to the community along with 350,000 visitors annually. The Poor Knights Island as it stands pulls in about $10m a year.
Mr Smith says the chamber is researching how much money the proposed park could earn and other issues it may face. The difference between similar marine sites in New Zealand is that this will not be a reserve.
Northland Chamber of Commerce blog entry: Another National Park for New Zealand? In Northland!
Details of a similar 2005 proposal
Add as favourites (111) |
Quote this article on your site | Views: 2087



Only registered users can write comments.
Please login or register.

Powered by AkoComment Tweaked Special Edition v.1.4.6
AkoComment © Copyright 2004 by Arthur Konze - www.mamboportal.com
All right reserved