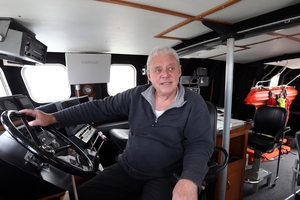 Brian Angliss owns one of the finest all-weather boats ever built for rescue work - and as he was unable to virtually give it away it's now up for sale.
He offered his Arun class lifeboat designed by the Royal National Lifeboat Institution (RNLI) to Coastguard Northern Region for use on the Tutukaka coast, offering to pay the boat's insurance, marina, servicing, maintenance and survey costs.
Mr Angliss, 69, a retired UK carmaker now living at Ngunguru, also offered to cover fuel and general running costs save for when the boat was used for Coastguard work.
But the only time the Arun saw any rescue service was when it went to the aid of a Tutukaka Coastguard crew injured when their rescue boat ran on to rocks off Pataua South in 2009.
Add as favourites (91) |
Quote this article on your site | Views: 1584



Only registered users can write comments.
Please login or register.

Powered by AkoComment Tweaked Special Edition v.1.4.6
AkoComment © Copyright 2004 by Arthur Konze - www.mamboportal.com
All right reserved