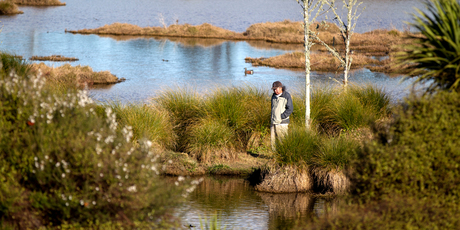 To appreciate what wetlands offer, you really have to see them, walk in them and have a good look at what's living there. They are extraordinary places and extraordinarily important to the environment. We want everyone to know that and the way to achieve this is to encourage people to get out and explore."
So says Auckland Council senior biodiversity adviser Miranda Bennett, and I can see what she means. We're standing just 7km from downtown Auckland, in the middle of the LeRoys Bush and Little Shoal Bay wetland in Birkenhead, but we might as well be in another country.
It's tranquil. A gentle breeze offers respite from a scorching sun and stirs native swamp plants such as raupo (native bulrush) and carex grasses. We seek shelter from the sun on well-built paths which meander through cabbage trees, nikau palms, karaka, kowhai and coprosma.
Add as favourites (92) |
Quote this article on your site | Views: 1297



Only registered users can write comments.
Please login or register.

Powered by AkoComment Tweaked Special Edition v.1.4.6
AkoComment © Copyright 2004 by Arthur Konze - www.mamboportal.com
All right reserved