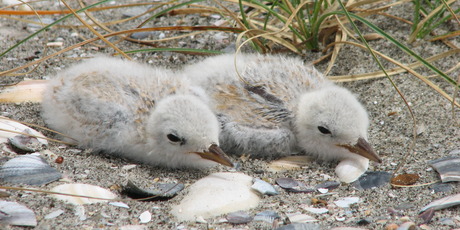 When mooring access comes before world's rarest shore bird our society is insane.
It's some topsy-turvy world where the community's decision-maker was being forced to weigh up the possibility of bringing a species to extinction against people wanting to moor their boats closer to their homes.
Mangawhai Harbour is promoted as a water-lovers' paradise and the perfect launch pad for surfers, boaties and recreational fishers. But some locals are gunning for significant development of the natural landscape with little regard for the importance and fragility of the harbour's wildlife.
Many people don't realise Mangawhai Harbour is critical to the survival of New Zealand fairy terns.
Fairy terns are New Zealand's rarest shore bird. There are just 43 left in the world. Each one is so vital to the species' survival that the Department of Conservation (DoC) and volunteers take turns to watch over the birds in shifts, at nesting sites during the breeding season.
This critically endangered species once bred around the North Island and upper South Island, but is now confined to four nesting sites north of Auckland.
Mangawhai is the most important of the four sites, with half of the population's breeding pairs feeding on small fish found in the mangroves that grow in the harbour. These small, gull-like birds are already on the knife's edge of extinction, and yet we're at risk of losing this critical feeding ground.
Add as favourites (98) |
Quote this article on your site | Views: 1937



Only registered users can write comments.
Please login or register.

Powered by AkoComment Tweaked Special Edition v.1.4.6
AkoComment © Copyright 2004 by Arthur Konze - www.mamboportal.com
All right reserved