| | | |
| --- | --- | --- |
| Slug sightings creeping up | | |
Human Interest -
Local
Written by Lindy Laird, The New Zealand Herald
Thursday, 10 January 2013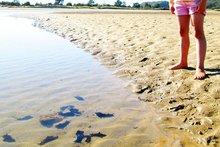 A spineless fellow with biggish ears and a fondness for squidgy environments has been hanging about around Whangarei coastal spots.
Department of Conservation marine ranger Marie Jordan said a number of sea hares, (Aplysia species), sometimes called sea slugs, had been turning up at Ngunguru and other estuaries in recent days.
They live on the seabed at varying depths but it is not unusual for them to be found washed up on the high-tide line.
Add as favourites (120) |
Quote this article on your site | Views: 2232



Only registered users can write comments.
Please login or register.

Powered by AkoComment Tweaked Special Edition v.1.4.6
AkoComment © Copyright 2004 by Arthur Konze - www.mamboportal.com
All right reserved