Environmentalists believe council planners dropped their rulebook to help a Russian billionaire enjoy his stunning Northland hideaway. But if Alexander Abramov keeps his promises, Helena Bay Farm may yet prove the sceptics wrong.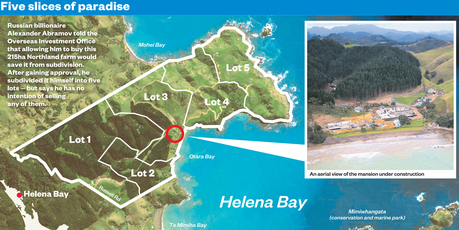 Russian billionaire Alexander Abramov told the Overseas Investment Office that allowing him to buy this 215ha Northland farm would save it from subdivision. After gaining approval, he subdivided it himself into five lots.
Helena Bay is, from any viewpoint, a special place. What lifts it beyond your average piece of "unspoilt" coastline is the view across the bay to Mimiwhangata, a peninsula of steep pasture, jagged edges and rocky outcrops. It was spared from development into a Gold Coast-style resort in the 1980s when owners NZ Breweries cut a deal with the Government and it is now a conservation and marine park.
Holiday homes in the bay are mostly confined to Ngawai (Teal) Bay, in the southwest corner. The northern headland is largely development-free; a mix of bush and grass farmed for 100 years. When Alexander Abramov came across it in 2006, he set his sights on it.
The sale of the headland farm to the Russian billionaire (approved by the Overseas Investment Office in early 2010) - and what has happened since - bear some familiar hallmarks of the flawed processes that have seen swathes of green coastline marred by development.
Add as favourites (130) |
Quote this article on your site | Views: 2737



Only registered users can write comments.
Please login or register.

Powered by AkoComment Tweaked Special Edition v.1.4.6
AkoComment © Copyright 2004 by Arthur Konze - www.mamboportal.com
All right reserved