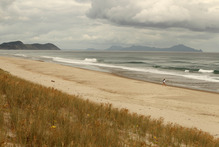 Critics of a 46-lot subdivision plan at Te Arai Beach, near Mangawhai, say public opposition stays high - despite the developers' offer to gift 172ha of park land along the 5.3km of untouched white sandy beach.
A summary of 2255 submissions on the bid to change the Rodney District Plan for the subdivision has been released by Auckland Council for public comment.
Te Arai Beach Preservation Society president Mark Walker said 1671 submissions asked that proposed plan change 166 be declined - compared with 582 submissions wanting it approved.
He said the issue was about giving subdivision rights on land adjacent to nesting grounds of the critically endangered NZ fairy tern, in exchange for park land.
Add as favourites (87) |
Quote this article on your site | Views: 2488



Only registered users can write comments.
Please login or register.

Powered by AkoComment Tweaked Special Edition v.1.4.6
AkoComment © Copyright 2004 by Arthur Konze - www.mamboportal.com
All right reserved