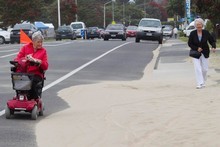 The Hibiscus Coast Highway has looked like a beach track in parts of Orewa as high winds blasted sand dunes, sending clouds of grit to cover homes and gardens up to 200m inland.
Yesterday, along the 3km Orewa Beach, picnic parties huddled behind vehicles to shelter from the sand storm while on the beach, pilots of sand yachts were thrilled at being able to reach speeds of 60 km/h.
The lawn at the beach's playground was also clogged with the sand, which had built up to knee-height on the pathways above the beach.
At the town's BP service station on Sunday, motorists were pelted with grit whipped up from drifts spread over the highway.
Also, see Warning on Orewa Beach erosion (November 2010)
Add as favourites (100) |
Quote this article on your site | Views: 1915



Only registered users can write comments.
Please login or register.

Powered by AkoComment Tweaked Special Edition v.1.4.6
AkoComment © Copyright 2004 by Arthur Konze - www.mamboportal.com
All right reserved