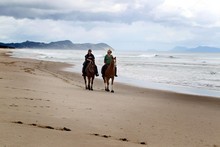 Apart from the sound of Reg Whale's boots treading through the sand, Te Arai Beach's dunes are quiet. The beach is deserted. The Northland farmer stops every few minutes, crouching down to check each of his pest traps hidden in the tussock. He retrieves a snared ferret, hardening in the mid-morning sun. Another trap has landed a hedgehog. The rest of the traps are empty, which means Whale's daily rounds are paying off.
This stretch of coastline, between Pakiri and Mangawhai, just 110km north of Auckland, is home to the New Zealand fairy tern which roosts and breeds in Te Arai's dunes. With around 40 remaining in the country, the bird is struggling to survive.
Thanks to the efforts of volunteers like Whale, wild cats, rats and hedgehogs are no longer a major threat to the fairy tern's existence. But now they claim a new threat looms.
Millionaire South Island developer John Darby wants to build 46 homes on a 616ha block of land that runs almost the entire length of the beach. This proposal, the latest in a battle which has been ongoing since 2005, took opponents of the beach development by surprise.
They thought they'd seen the last of Darby after fighting off his first plan, six years ago, for a golf course, lodge, spa, shops and 1400 houses.
Add as favourites (106) |
Quote this article on your site | Views: 1786



Only registered users can write comments.
Please login or register.

Powered by AkoComment Tweaked Special Edition v.1.4.6
AkoComment © Copyright 2004 by Arthur Konze - www.mamboportal.com
All right reserved