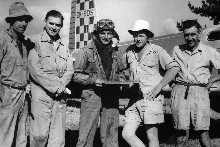 Bob Gummer (centre) with Guy Robertson, (second left) talk work with farmers. Photo / Weekly News
Robert William Gummer
Pilot, farmer
Died aged 89
As an aerial topdressing pilot in the early 1950s Bob Gummer was given the task of testing and proving the prototype of the Fletcher purpose-built topdressing aircraft.
The type has since become a familiar sight spreading fertiliser over New Zealand farms and bush.
The testing was done for a month over the rugged and testing terrain of the King Country in the central North Island, areas of which are often described in farming parlance as "hard hill country".
Later they moved to Tutukaka in Northland, where he became a keen yachtsman and Commodore of the Tutukaka South Pacific Yacht Club.
And it meant flying off rough airstrips often bulldozed out of a sloping hillside.
Two of the people involved in the Fletcher development were Gummer's boss Guy Robertson, who founded Robertson Air Service in Waikato in 1951, and topdressing pioneer Sir Oswald James.
Add as favourites (122) |
Quote this article on your site | Views: 2396



Only registered users can write comments.
Please login or register.

Powered by AkoComment Tweaked Special Edition v.1.4.6
AkoComment © Copyright 2004 by Arthur Konze - www.mamboportal.com
All right reserved