| | | |
| --- | --- | --- |
| Coastal development threatens rare birds | | |
Written by Helen Bain of Forest & Bird (press release) / Scoop
Tuesday, 16 May 2006
28 April 2006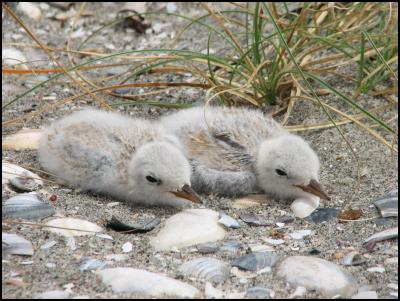 Click for big version - Two older fairy tern chicks
New Zealand fairy terns may be the most critically endangered bird in New Zealand, and perhaps even the world's rarest tern, new DNA evidence suggests.
Research by Auckland University that suggests New Zealand fairy terns have unique DNA characteristics heightens concerns that a proposed subdivision of up to 2000 houses near Mangawhai Heads poses a serious threat to the terns' survival.
Read the Forest and Bird press release or feature article.

Add as favourites (110) |
Quote this article on your site | Views: 7217


Only registered users can write comments.
Please login or register.
Powered by AkoComment Tweaked Special Edition v.1.4.6
AkoComment © Copyright 2004 by Arthur Konze - www.mamboportal.com
All right reserved
Last Updated ( Thursday, 19 April 2007 )